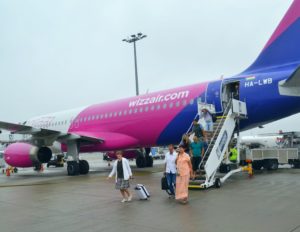 The european lowcoster Wizz Air is planning to increase the frequency of regular flights between St. Petersburg and Budapest up to three flights per week in the winter season 2017-2018. In summer, the planes will depart from the Northern capital to Hungary only on Wednesdays and Sundays.
The flights will start from Pulkovo airport from August 27. With the beginning of winter navigation on October 31, they will be organized on Tuesdays, Thursdays and Saturdays on A320 aircraft.
The capital of Hungary is one of the highly demanded areas with which St. Petersburg does not have direct regular flights yet. By the end of 2016, the indirect passenger traffic between the two cities was about 15 000 people.
The fleet of Wizz Air is counting of 81 aircrafts Airbus A320 and A321. The airline operates flights in 63 directions from Budapest, and the total route network of the company includes more than 140 cities around the world.