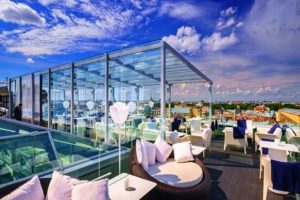 The restaurant "Wine & Water" is located in a boutique hotel – Hotel Indigo St. Petersburg-Tchaikovsky. The interior of the restaurant is decorated with original sculptures of the Dutch master, furniture in light colors and white marble of the floor – all this together creates an unforgettable atmosphere of comfort and mild warmth. The menu is based on traditional dishes of Russian cuisine in the author's reading of the chef Igor Pechyorkin. Here, they cook lamb leg with pearl barley, the Kiev cutlet, and beetroot soup with crab meat and sorbet from fresh cucumber. The borsch is served here according to the ancient Russian tradition – in a real pie. An exquisite selection of dishes is complemented by special Thai and Georgian menus. In the wine list of the restaurant there is more than 100 selected wines, and dozens of names of drinking and mineral water from around the world.
Since April 2017, the restaurant has opened a panoramic terrace on the roof of the building. The terrace is completely protected from rain and wind with the help of a sliding glass panel system and is heated, so visitors will be comfortable in any weather. From the roof of the eight-story building you can enjoy a breathtaking panoramic view of the historic center of Saint-Petersburg. From under the glazed canopy you can admire the process of raising of the three most important bridges of the city in any weather. On hot days in the open area of the terrace, lovers of sunbathing can relax on the pretty padded stools. The terrace is open from 13:00 to 02:00.
Summer menu on the panoramic terrace
Specially for the warm weather the chef of the restaurant "Wine & Water" Igor Pecherkin added to the menu a refreshing and invigorating palette of summer tastes. Try a real traditional "okroshka" soup or a fragrant cold soup made of brynza and cucumber pulp with mint and lemon oil. A light summer salad with pieces of strawberries, mangoes and asparagus will serve as an excellent snack for everyone who prefers healthy food. The original duo of blueberries and chocolate mousses with characteristic bright notes of lavender will remind you of the picturesque lavender fields of the south of France.