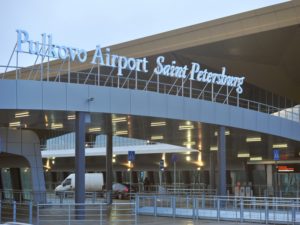 The route network of Pulkovo Airport will expand due to new European destinations. From the end of October, the S7 airline starts sending flights to Verona, Salzburg, Innsbruck, Lyon and Turin, and the airline "Rossiya" for the first time will deliver passengers from St. Petersburg to Pardubice (Czech Republic) and Sharjah (UAE).
"Ural Airlines" launches flights to Namangan, the second largest city of Uzbekistan and to the island of Tenerife. Chinese carrier Lucky air will start flying to Chengdu and Kunming.
In total, Pulkovo will open 21 new directions by the end of 2017: 10 appeared in the summer schedule and 11 were announced for the winter.
From the near abroad, new flights will be added to Tbilisi (Nordavia), Baku (Buta airlines) and Urgench (Ural Airlines). There will also be more opportunities to fly to other cities of Russia. RedWings will fly to Sochi, Krasnodar, Murmansk and Simferopol, Rusline – to Nizhny Novgorod and Kaliningrad, Nordavia – to Kazan, Chelyabinsk, Voronezh, Volgograd. These areas were previously only in the summer schedule, but now the company decided to extend them for the winter. Komiaviatrans will launch new flights to Arkhangelsk and resume flights to Vladimir, Saratov Airlines to Minsk, Moscow, Naryan-Mar, the company Severny Veter will fly to Mineralnye Vody, the company Yamal will fly to Salekhard, Sochi, Krasnoyarsk, Novy Urengoy .
Airlines are planning to fly more often on already launched directions. 22 airlines on 34 routes had informed about the increase in frequency of flights from Pulkovo.
The statistics of passenger traffic inspires optimism. If in 2015 and in 2016 the passenger traffic of St. Petersburg's air harbor fell, in eight months of 2017 Pulkovo carried 10.9 million passengers, which is 24% more than a year ago.
As a result of 2017, the "Air Gate of the Northern Capital" predicts an increase in flow by 20% by 2016 (up to 16 million people), following the results of 2018 – by 10% (to 17.6 million people).