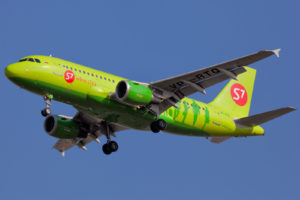 Russian S7 Airlines is opening the regular flights from Saint-Petersburg Pulkovo airport to Berlin. This would be the first international route of this airline from the St. Petersburg airport. The information was reported by the press service of the managing company of the airport "The Air Gates of the Northern Capital".
Flights will be performed three times a week – on Tuesdays, Thursdays and Saturdays. The aircrafts on the route will be Airbus A319. Now, the passengers of S7 Airlines will be able to take advantage of the offers of the partner of S7 – the AirBerlin airline – and to lay out further routes. Both companies are the members of the OneWorld alliance.
S7 Airlines is one of the five largest carriers in Pulkovo airport, in terms of passenger traffic. In 2016 the airline serviced 1.1 million people at the airport. In the current summer season, the S7 Airline is serving seven destinations from St. Petersburg. These are Berlin, Bryansk, Kaliningrad, Kaluga, Moscow, Novosibirsk and Yaroslavl.