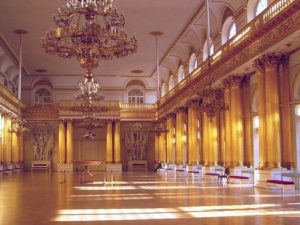 On May 31, 2017, the International Music Festival "Palaces of Saint-Petersburg" will open its XXV anniversary season. The grand opening will take place in the luxurious interiors of the Armorial Hall of the Winter Palace in the State Hermitage. At the opening, the festival will present a unique concert version of one of the most popular operas – "Rural Honor" by Pietro Mascagni.
The stars of the world opera stage will take part in the performance – one of the best performers of the role of Santuzzi – Chiara Taiji (soprano, Italy), the brilliant Spanish tenor Sergio Escobar, soloists of the Mariinsky and Mikhailovsky theaters; A powerful choir consisting of: Choir of the St. Petersburg State University, Chamber Choir Urbi et Orbi, Chamber Choir Consonance of the St. Petersburg State Technological Institute, International Symphonic Orchestra Tavrichesky.
One of the best modern conductors, Marco Gvidarini (Italy), will play for the "Tavricheskiy" orchestra. Gvidarini is widely known in Europe and beyond as an outstanding opera and symphony conductor. To date, Marco Gvidarini can be called one of the most vivid and most popular conductors of modern Europe. High aesthetics and expressiveness of gestures distinguish his creative style. His talent allows him to work with the most diverse teams in different countries.
Dress code: Creative black tie.
The concert begins at 19:30.
Duration – 2 hours 30 minutes
The cost of tickets is 2500-6000 rubles (approximately 40 euros)