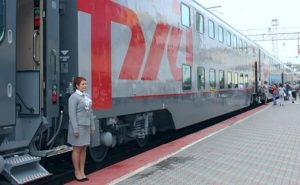 The free railway trains will be organized between the host cities of the Cup of Confederations-2017 (Moscow, St. Petersburg, Kazan and Sochi) on the days of the football matches. The travel on the trains will be free for fans with tickets for the match and a Fan-ID.
Additional trains will run on a special schedule. The trains will arrive to the city in the morning or in the afternoon on the day of the match. So, the football fans can reach the stadium without haste. The returning trains will leave the city after the match in the evening or at night.
In order to take advantage of free travel on train trains between cities, fans need to register on the website tickets.transport2018.com , choose a convenient train, coach and place in the compartment. After completing the request, the website will send an electronic railway ticket and the travel information to the requesters email.
The modern comfortable coaches will be provided for the football fans. On some routes there will be two-storied trains. No additional fare will be charged from the fan: even the bed linen will be free. Registration on the site is simple, about the same as when ordering a standard railway ticket. Everything was done as conveniently as possible.