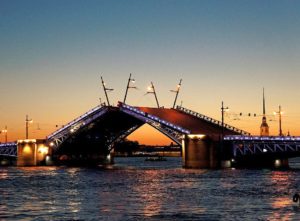 The second season of the new unique sound show "Singing Bridges" opened in Saint-Petersburg in May. The classical and modern music will accompany the lifting of the Palace Bridge until September 3.
About two million people visited this open-air philharmonic in 2016. At the end of 2016, the project was included in the TOP-10 of the most important city events. This show took seventh place and became a new highlight of St. Petersburg. This season, the audience will hear the works of the famous Saint-Petersburg musician-improviser Oleg Karavaichuk. The lyrical melodies of Vasily Solovyov-Sedoi will also sound over the Neva. On the Day of the Navy, Petersburg bridges will sing the sailor songs. The project "Singing bridges", started in July 2016. It is carried out under the supervision of the city committee for the press and interaction with the media. The project is financed by private sponsorship, without participation the city budget.
In the second season of 2017, the project will be brought to a higher technical and creative level. Instead of linear sound arrays, which were mounted on both sides of the Palace Bridge, it will use a distributed sound system.