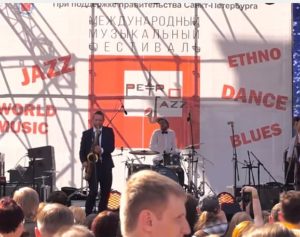 The 13th International Music Festival " PetroJazz " will be held in St. Petersburg at Ostrovsky Square from 14 to 16 of July.
The international musical open-air festival " PetroJazz " originates from the jazz festival "Petropavlovsky", which was held for the first time in 2003. In 2017, the festival "PetroJazz" for the third time will be held in the very center of St. Petersburg, at Ostrovsky Square, and again the entrance to the festival will be absolutely free, both for St. Petersburg residents and for city guests. In recent years, significant changes have taken place in " PetroJazz ". Now the festival is attended not only by musical ensembles, but also dance studios.
This year the festival has prepared an extensive program that will surprise jazz fans with a wide variety of styles: from classics, soul, blues to ethno-rock and avant-garde improvisations performed by the brightest representatives of jazz and world music from many countries of the world. July 14 and 16 concerts will last from 13.00 to 22.00, and on July 15 – from 19.15 to 22.00. The new idea of the festival is to return jazz to the dance floor. In the intervals between the performances, master classes of jazz dance (step, Lindy-hop, salsa, blues, etc.) will be held for all comers.
The " PetroJazz " 2017 program includes more than 20 bands from Denmark, Spain, Finland, Germany, Hungary, Switzerland, Estonia, Lithuania, Latvia and, of course, Russia. The headliners of the festival "Petrodzhaz 2017" are: the jazz band from Riga "Very Cool People", the Estonian psychedelic jazz band "Estrada Orchestra", a group from St. Petersburg playing in the style of jazz-n-dance – "ELLINA R", one Of the most popular Hungarian ethno-fusion bands – "Djabe", the group "Dizzy Dutch Duck", the quartet of professional saxophonists – "2×2". The leader of the dance program of the festival will be Roxana Butterfly – dancer and choreographer from Toulon, France.
The St. Petersburg Philharmonic Orchestra of Jazz Music will take part in the festival for the first time, and the most authoritative jazz musician in St. Petersburg who has received a truly worldwide recognition – David Goloshchekin, will perform with his Jazz Ensemble.
The festival is supported by the Government of St. Petersburg.
The host of the program is the Honored Artist of Russia Vladimir Feiertag
---