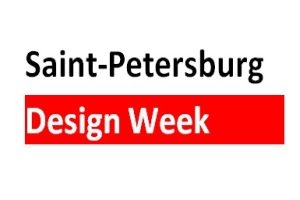 St. Petersburg Design Week is an annual event that has become a meeting place for international professionals. During the Week, participants demonstrate trends in design, architecture, and art. Within the Week of Design, more than 100 different events take place in St. Petersburg – exhibitions, presentations, lectures, master classes, round tables, discussions and social events.
The Week of Design is held from May 31 to June 7, 2017. This year, for the main design event, a new, unique site for the city was chosen: ARTPLAY SPb (Krasnogvardeyskaya Square, 3). This is a unique art cluster, occupying a whole block with an area of more than 100 000 sq.m. It is located on the right bank of the Neva in the area of Malaya Okhta.
The main theme of the new season of St. Petersburg Design Week is SmArt DeSign 24/7. The SmArt DeSign 24/7 concept is based on the following starting points: a comfortable city, a stylish house, an ergonomic office, profitable business – all this is what modern people are aiming at, and what smart design should be oriented towards.
2017 is declared the year of Ecology in Russia, therefore the issues of rational use of resources, energy-saving technologies and environmentally friendly materials will become more important every day.
Over the previous six seasons, St. Petersburg Design Week has established itself as a culturally significant project. The event is an extensive educational and lecture program. The target audience of Design Week are professionals in the field of architecture and design, students, and all who follow the world trends in design and are ready for new discoveries. St. Petersburg Design Week is a platform for the social development of the Russian design industry and its integration into the global context. For six years, St. Petersburg Design Week events have been included in programs as the cross-cultural year of Russia-Italy 2011, Russia-Holland 2013, the International Economic Forum 2014, and the annual program for the celebration of the City Day. Throughout its existence, the St. Petersburg project. Petersburg Design Week is supported by the Government of St. Petersburg: the Committee for Culture, the Committee on Architecture and Urban Planning, the Committee on Press, as well as the embassies and consulates of the countries participating in the Design Week.
---