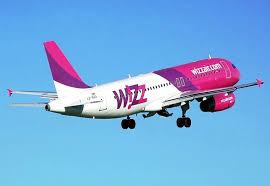 The Hungarian lowcoster Wizz Air launches direct flights from St. Petersburg to Europe. This was reported in the press service of the airport operator Pulkovo "Air Gate of the Northern Capital".
Wizz Air opens flights from August 27th. The European carrier will offer a flight Petersburg-Budapest. Flights will be performed twice a week on Airbus 320 aircrafts. From 27 August to 25 October departures on Wednesdays and Sundays, from 31 October – on Tuesdays and Saturdays. Tickets are already on sale, the one way price starts at 29.99 euros, including all taxes.
Petersburg is not yet connected by direct flight with the capital of Hungary. The airport is sure that the product offered by Wizz Air will be in high demand both among tourists and business travelers on both sides.
Reference:
The head office of Wizz Air is located in Budapest. In the market of air transportation the European loukoster is located since 2003. Today, low-budget carrier performs flights to 141 airports in 42 countries. From Budapest on the countries of the European Union 63 routes are submitted. The fleet includes 81 aircraft Airbus A320 and A321.