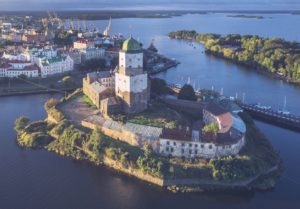 The Russian analytical agency TourStat has identified the most popular tourist towns of the Leningrad Region. The rating is based on the data of online hotel booking systems. The information was gathered on the days of May holidays.
The top ten cities for tourism in the Leningrad region are Vyborg, Priozersk, Gatchina, Vsevolozhsk, Ivangorod, Kingisepp, Volkhov, Tikhvin, Shlisselburg and Lodeynoye Pole.
According to TourStat, the average period of stay in this cities on the May holidays was 2 nights, and the average rate for acommodation was 3,000 rubles per night (47 Euros).
The cheapest average rate for acommodation in the Leningrad Region was in Kingisepp – 2,300 rubles per night (36 Euros), and the most expensive was Priozersk – 3,500 rubles per night (55 Euros).