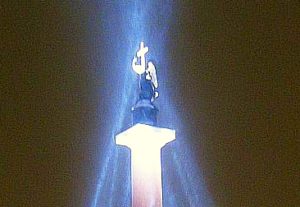 The symbol of the city on the Alexander Column was recently illuminated with the help of LED spotlights. Now the angel is illuminated 10 times brighter.
As the press service of the government of St. Petersburg informs, 28 LED floodlights have been installed on the roofs of the Hermitage and the General Staff for better illumination of the monument.
The work on the decoration of the architectural and artistic illumination of the statue of an angel on the Alexandrian pillar on the Palace Square was performed by the company "Lensvet". The enterprise emphasizes that the new equipment highlights the sculpture in detail from all angles.
New floodlights create a luminous flux 10 times more powerful, unlike the searchlights that covered the silhouette of an angel before. Their total power consumption is only 420 watts.
The Alexander Column was opened on August 30, 1834. The monument was for five years built by architect Auguste Montferrand by the decree of Emperor Nicholas I in memory of the victory of Alexander I over Napoleon. The monument became the highest freestanding triumphal column in the world.
The pillar is under the jurisdiction of the State Hermitage. In early summer this year he entered the list of monuments of federal significance.