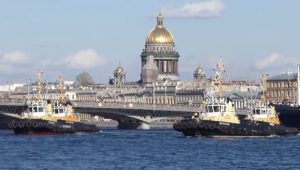 Next Saturday, April 29, residents of St. Petersburg and guests of the city will see a grandiose show – parade of icebreakers on the Neva River. This is one of the events of the icebreakers festival, which will be held in the northern capital for the fourth time.
The festival will last two days. During this time, visitors may not only see the ships in the water area, but also get on board, see how the icebreakers are arranged from the inside.
In previous years, the festival was held with tremendous success. The crews of the ships were surprised by the number of people who wanted to get inside. They were very pleased with the interest of the public. This festival is already becoming a beautiful urban tradition.