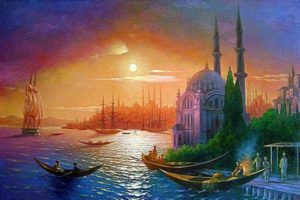 On June 15, the Central Naval Museum opens the exhibition "The Sea Symphony of Ivan Aivazovsky", dedicated to the 200th anniversary of the birth of Ivan Konstantinovich Aivazovsky.
Ivan Konstantinovich Aivazovsky (1817-1900) – an outstanding marine painter, a bright representative of the Russian academic school. His creative life spans the entire 19th century. He was born in 1817 in Feodosiya on the Black Sea coast, where he learned the art of painting – he took drawing lessons from a local architect. In 1833, Aivazovsky entered the Imperial Academy of Arts in St. Petersburg. In 1839 he was awarded the title of artist, received a large gold medal and the right to travel to Europe, where his paintings aroused admiration of the general public and famous artists. In 1844 Aivazovsky became a painter of the Main Naval Staff and a uniform of the official of the Naval Ministry. Since that time the artist's life is inextricably linked with the Russian fleet. For his long creative life Aivazovsky wrote about 6000 works. 120 personal exhibitions took place during his lifetime. He immortalized the exploits and history of the Russian fleet.
The exhibition presents works that introduce only a small part of the master's heritage, but they reveal the entire range of the artist's work. The canvases of historical and battle genres, life and life of sailors in peacetime are presented.
The artist has visited the Baltic, Black and Mediterranean seas many times, crossed the Atlantic Ocean. He watched the sunrises and sunsets, storms and storms, moonlit nights and clear days, and they became the favorite motifs from which the painter's sea symphony took shape. All the artist's work is permeated with music and poetry.
At the exhibition for the first time presented graphic works from the museum "Peterhof". Fourteen drawings by I.K. Aivazovsky, depicting the port cities of Nikolaev and Sevastopol, were executed in 1845-1846. In addition to documentary thoroughness, they are distinguished by the virtuosity of their performance.
The exhibition "The Sea Symphony of Ivan Aivazovsky" suggests the viewer to once again meet with the master's canvases, to plunge into the elements of water and the sky and to reflect on the phenomenon of the artist's creativity, which for almost 200 years remains one of the most popular and beloved in the world.