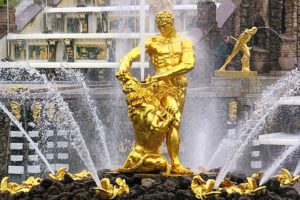 The famous fountains of the Peterhof Museum-Reserve will start working in April. And a month later, the traditional spectacular festival of opening fountains will take place.
The first fountains will be launched in the test mode as early as April 24, after five days all the fountains of the park should be earned.
The grand opening of the summer season in Peterhof will be held on May 20, the holiday will begin at 13:00. The audience will see the costume performance on the Grand Cascade. Fountains will be highlighted by different colors and will dance to the beat of the famous classical melodies. The military brass bands of different times will march along the alleys of the Lower Park. The opening of the fountains will end with fireworks and pyrotechnic shows.
Anyone who can not come to Peterhof on this day will be able to watch the opening of fountains online. The webcam will be directed to the central and most impressive fountain – Samson, tearing the jaws of a lion. Until April 28, inclusive, the Lower Park of Peterhof works in winter mode and is open for free of charge.