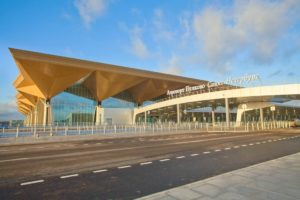 A record number of passengers – 16.1 million – was served by the airport of St. Petersburg in the last year. The most popular were flights to Moscow and Antalya.
As it was reported on January 18 by the press service of the management company LLC "Air Gate of the Northern Capital", the airport's passenger traffic in 2017 exceeded the indicators of 2016 by 21.6%. 16.1 million is an absolute record, the previous maximum achievement was in 2014 (14.3 million passengers).
On domestic flights, the passenger traffic amounted to 10 million people, on international routes – 6.1 million. The busiest day was on July 1, when guests and participants of the Confederation Cup arrived, – then 66 835 passengers arrived at Pulkovo. July also became the busiest month of the year – 1.9 million people.
The most demanded internal directions were Moscow, Simferopol and Sochi, international – Antalya, Frankfurt am Main and Larnaca.
Most of all air travel was made by the companies "Russia", "Aeroflot", S7 Airlines, "Ural Airlines" and Utair – they accounted for 60.4% of the total passenger flow of the airport at the end of the year. Leaders among foreign operators are Lufthansa, KLM and Turkish Airlines.
The flight schedule from Pulkovo in 2017 was supplemented by 16 new regular routes – among them Venice and Vorkuta.
In total, the route network included 155 domestic and international destinations, of which 72 airlines operated on a regular basis.