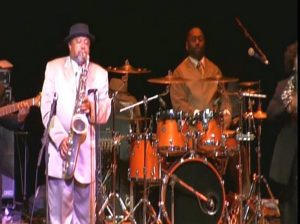 The annual XXIV St. Petersburg Festival of Jazz "Swing of the White Night – 2017″ will be held from June 29 to July 2. The festival is being held by the State Philharmonia of Jazz Music since 1994.
Performances of famous musicians from Europe and America are planned at the festival. These are the Ensemble " Chucky C. and Clearly Blue " from New Orleans, the "Gonzalo Bergara Quartet" (USA), that is representing the "Jazz Manush" style, an american vocalist Marjorie Barnes, the pianist from France Alain-Jean-Marie and the saxophonist Dmitry Bayevsky, the cellist from USA Yang Maxin, the "Four" ensemble (Moscow – St. Petersburg), the vocalist Elvira Trafova, Julia Kasyan and the Chamber Orchestra "Strings of St. Petersburg". Also, the great enthusiast and master of russian jazz – David Goloshchekin and his Ensemble will participate in the festival's program.
Concerts of the festival will be held on June 29, 30 and July 1 in the Philharmonic of jazz music, and on July 2 – at the St. Michael Castle (the Engineers Castle), where at 13.00 there will be a gala concert in the open air. The entrance to this festival event is free. At the gala concert, in addition to the guests of the festival, will perform the famous St. Petersburg collectives: Gennady Holstein and the St. Petersburg Saxophone Orchestra, the Leningrad Dixieland directed by Oleg Kuvaytsev, the Jazz Philharmonic Orchestra of Kirill Bubyakin and the orchestra "Caribben Jazz Report" of Alexander Vasilevsky.
According to the tradition, the participants of the festival will be presented by its permanent leader – the Honored Artist of Russia Vladimir Feiertag.
---