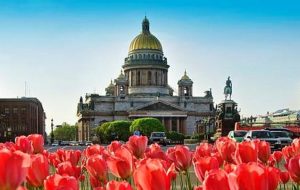 1. May 27. V Festival of Tulips on Elagin Island. The festival of tulips is a magnificent spring holiday, which turns Elagin island into a residence of various floral colors. The festival offers a total area of 2225 square meters of flowers, a 140 000 pieces of planted bulbs and 120 varieties of tulips at the same place.
2. May 27. Ice Cream Festival. The Ostrovsky square will host the "XXII Ice Cream Festival" – the most delicious holiday in St. Petersburg, organized as part of the City Day. Visitors to the festival will be able to try more than 50 types of ice cream.
3. May 27 at 13:00 . St. Petersburg Nationalities Ball. The Saint-Petersburg Ball of Nationalities is dedicated to the Day of the City of St. Petersburg. A festive column of representatives of the multinational St. Petersburg will begin its movement from the Birzhevaya square through all Nevsky prospect.
4. From May 26 to 28. Festival "Legends of the Norwegian Vikings". There will be a real Viking settlement near the walls of the Peter and Paul Fortress
5. May 27. The XXI International Festival of Decorative and Applied Art "Salt city – the place of the masters". At the Solyanoy lane, the artists will create works of art at the open air, in front of the audience. There will be also a fair of the handicrafts and a musical program.
6. May 27 – The International youth festival of water. Program takes place at the Park of the 300th anniversary of St. Petersburg.
7. 26, 27 and 28 May. Festival "Slavic Fair". Guests of the festival will paricipate in numerous master classes on folk crafts, fairgrounds, colorful theatrical and concert program.
8. May 27 at 21:00 . Concert "Classics on the Palace Square". A grand open-air concert of classical music for the Birthday of St. Petersburg.
9. May 27. Festival of the Sand Sculptures "Russia the Great" near the walls of the Peter and Paul Fortress.
10. May 28. All-Russian Bicycle Parade in St. Petersburg. All lovers of outdoor activities are invited to participate in a large bicycle ride.