Package tour №67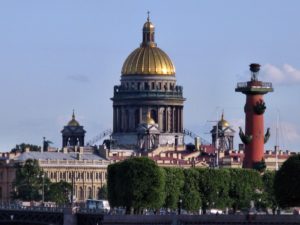 The Hermitage, also known as the Winter Palace, was the main residence of the Russian Tsar's. The palace and it's interiors were designed and built under the supervision of the famous italian architect Bartholomeo Rastrelli. Hermitage owns a great collection of the paintings of classical and modern artists. Among them are Da Vinci, Rembrandt, Roubens, Botticelli, Michelangelo, Goya, Durer and many others. Catherine's Palace in Pushkin town was started in 1717 as a small residence during the reign of the Empress Catherine I, but 40 years later, it was reconstructed by the order of the Empress Elizaveta Petrovna. The palace interiors host the world famous Amber room (Amber Chamber), that was completely restored to it's historical look.
---
Tour duration – 8 hrs.
Tour include internal visits to the State Hermitage Museum and Catherine's Palace in Pushkin
Tour is not available on Mondays and Tuesdays
Price include entrance tickets, roundtrip transfer and the assistance of english-speaking guide-translator.
Price does not include any meals.
---
---