Package tour №60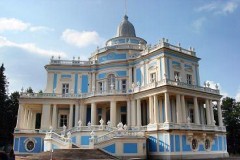 This tour will take you to the two palaces located on the southern coast of the Gulf of Finland. The Peterhof Grand Palace was built by the order of Peter the Great, to be the official summer residence of the Romanov's family. The picturesque Lower park counts 114 various fountains ans 3 large cascades. Peterhof is usually compared by it's beauty and luxury to the Versailes Palace in France. Oranienbaum Palace is located in the town of Lomonosov. This property was firstly owned by the Grand Duke Menshikov, and lately by the Empress Catherine II. The beautiful Chinese Palace of Oranienbaum is designed in a an original "eastern style" that represents the XVIIIth century visions of the culture of the east.
---
Tour duration – 8 hrs.
Tour include internal visits to Peterhof Grand Palace and Oranienbaum Palace, and their's parks
Tour is not available on Mondays and last Tuesday of each month
Price include entrance tickets, roundtrip transfer and the assistance of english-speaking guide-translator.
Price does not include any meals.
---
---