Guide tour №36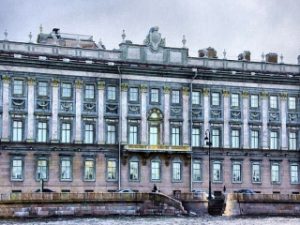 The Marble Palace was built in 1768-1785, by the project of the architect A. Rinaldi. For the first time in Russia, Rinaldi had use the natural stone – granite and around 30 varieties of marble, to finish the exterior and interior decorations of the palace, for which the palace got its name. The sculptures adorning the facade of the palace, were made by the famous sculptor Fyodor Shubin. Originally, the palace was designed by Catherine II as a gift to her favorite Grigory Orlov. However, Orlov died before completion. After his death, the palace served as the residence of the Grand Dukes. One of the last of its owners was the Grand Duke Konstantin Romanov, who was a talented poet too. There is a memorial exhibition, opened in the left wing of the palace, devoted to Konstantin Romanov – a poet of the "Silver Age". In 1994, the palace yard was decorated with the equestrian statue of Alexander III, created by sculptor Trubetskoy. In it's halls, the Marble Palace houses several permanent exhibitions – "Foreign Artists in Russia XVII-?1? Ages", "Collection of the St. Petersburg collectors, brothers Rzhevsky" and "Ludwig Museum in the Russian Museum – Russia's only constant exhibition of Russian art of XX century, making it possible to trace the development of Russian art in the context of world culture. There are also exhibitions of works by contemporary Russian and foreign artists, including representing the latest trends in art.
---
Duration – 3 hrs.
Entrance ticket(s) included.
This excursion is not available on Tuesdays.
Tour includes roundtrip transfer and english-speaking guide assistance.
---
---