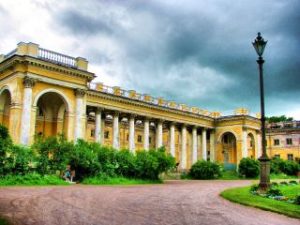 The Alexander Palace was started in 1792, by the order of Catherine II. It was built as a present for the wedding of her favorite grandson, Grand Duke Alexander Pavlovich (the future Emperor Alexander I) with the Grand Duchess Elizaveta Alekseyevna. In May 1796, the last year of the reign of Empress Catherine II, the construction was completed, and on June 12th, 1796, Grand Duke Alexander Pavlovich and his wife moved into a new palace. The successor of Alexander I – Emperor Nicholas I loved the Alexander Palace and paid special attention to it's improvement. Later, Alexander Palace was the Grand Duke's residence for the grandson of Nicholas I, Grand Duke Alexander Alexandrovich – the future Emperor Alexander III. In 1904, Alexander Palace became the permanent residence of Emperor Nicholas II, who was born here in 1868 and cared of the Tsarskoe Selo with a special warmth. The last 13 years of the reign of the last Russian Emperor were spent here, and, from here, on August 1, 1917, the imperial family was exiled to Tobolsk. The Palace had held the most important events in the russian social life of the beginning of XX century: receptions of ambassadors and foreign dignitaries, the celebration of 300 years of the Romanov dynasty and the 200th anniversary of Tsarskoe Selo.
---
Duration – 4 hrs.
Entrance ticket(s) included.
This excursion is not available on Wednesdays (museum day-off).
Tour includes roundtrip transfer and english-speaking guide assistance.