Ausflugspaket №62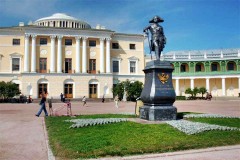 Pawlowsk und Puschkin sind die Nachbarstädte, deren Grenzen miteinander verbunden sind. Der Katharinenpalast wurde 1717 als eine kleine Residenz während der Herrschaft der Kaiserin Katharina I begonnen, aber 40 Jahre später wurde es durch den Befehl der Kaiserin Elizaveta Petrowna rekonstruiert. Die Palastinnenräume beherbergen das weltberühmte Bernsteinzimmer (Bernstein), das komplett restauriert wurde. Der Palast des Paulus in der Stadt Pawlowsk wurde 1784 vom Architekten James Cameron für Paul, der Sohn der Kaiserin Katharina II. Gebaut. Der Landschaftspark von Pawlowsk ist der größte in Europa und der beste Planungsplan.
---
Tour duration – 8 hrs.
Tour include internal visits to Catherine's Palace in Pushkin and Paul's Palace in Pavlovsk , and their's parks
on Tuesdays, Fridays, first and last Monday of each month is not available
Price include entrance tickets, roundtrip transfer and the assistance of german-speaking guide.
Price does not include any meals.
---
---