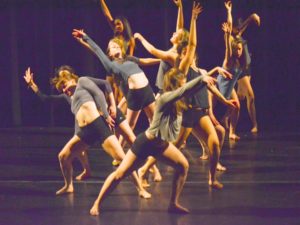 The XIX International Festival of Contemporary Dance OPEN LOOK will be held in Saint-Petersburg from June 29 to July 9. The organizers of the festival are the dance house "Cannon Dance" and the new stage of the Alexandrinsky Theater. The festival is held with the support of the Committee of Culture of Saint-Petersburg. At this time, Saint-Petersburg will become the center of European contemporary dance.
The OPEN LOOK-2017 program will feature performances by dance companies from France, Hungary, Switzerland, Finland, Belgium, Spain, Israel and the Netherlands. On July 4 and 5, there will be the world premiere of the dance performance "Penzum". This performance is staged by the famous French choreographer Joseph Nadj, in collaboration with the bass player Joel Leander. On July 8 and 9, the belgian troupe Ultima Vez will present a pseudo-documentary performance "Mocumentari on the Modern Savior" on the stage of the "Baltic House" theater. On June 30, the leading modern dance company of Finland "Thero Saarinen" will present to the public the performance "Growing Up". On July 1 the japanese choreographer Kaori Ito from Switzerland will show the play "I'm dancing, because I do not believe the words." Also, the program of the festival will include: dance company "Neopost Foufua" with the play "Choreo Chronicles"; the troupe of Sharon Vazan's from Israel with the play "Bodies"; the modern dance company Szegedi with the play "Absurdia"; "Uppsala circus"; the "Ballet Moscow" theater with the premiere – "All the ways lead to the North".
From July, 1 till July, 9th the European teachers from different world dancing companies will lead the master-classes on versatile dance techniques. Each of the teachers will present its own performance in the program SOLO SOUL. The educational program of the festival will include lectures by leading dance critics, meetings with choreographers, directors and artists.